Hi, I'm Chris Hanks. I write songs about life. The good and the difficult things that happen to all of us, those life experiences we can all relate to.
Live Performances
Chris' performing style is a unique blend of rock, soul, and country. Fans comment regularly about Chris' strong and reassuring vocals, along with his acoustic guitar skills, powering through their favorite music including Chris' originals. Chris' upbeat performances make a remarkably positive impact with his audience, and keep them returning to his shows.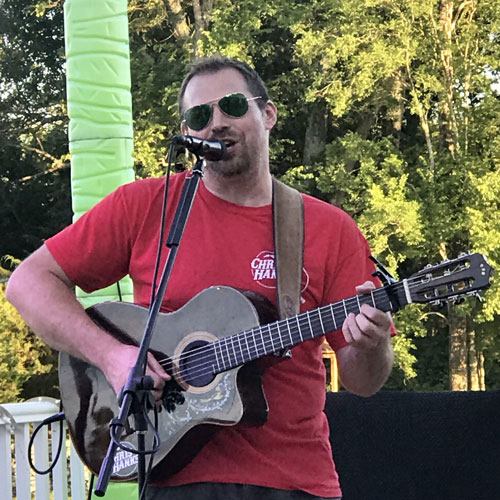 Background
I love roadtrips and getting away to see small town America, to see new places and meet people along the way. I love to fish and hike. I love to play music more than anything, especially for groups of people.
I started playing the guitar when I was 12 years old, when my parents bought me my first guitar. I took a few months of lessons and the rest I taught myself. I grew up listening to country music. I would cut the grass, play with legos, matchbox cars and build model cars listening to music. My parents listened to country music, and oldies like Motown. As a kid, it wasn't cool to like country music and wear cowboy boots. Luckily I started not caring what people think and became happy with who I am, when it came to music. Growing up in a not-so country town I started listening to a lot of different types of music like Rap, R&B, Rock, Classic Rock, Southern Rock and Reggae. My biggest influences in Country music have been Garth Brooks, George Strait, Alabama, The Marshall Tucker Band, and Johnny Cash. Continuing on with Zac Brown Band, Kenny Chesney, and Jason Aldean.
Many of you have known me as Chris Koethe. I go by Chris Hanks on stage. I update my show schedule regularly and look forward to seeing you all soon!
What people are saying about Chris:
"Chris' voice is powerful, but so calming."
"Chris Hanks' music comforts me."
"Chris has a voice you have to hear in person."
"Chris is a normal, good guy you wish you had as your neighbor."